Oh hey there! For my Canadian peeps, how was your long weekend? Mine was a blast. Hung out with my mom, had girls date with Erin (Steve's youngest sister), went to a BBQ, and hung out with my two favourite guys.
I have received a few emails and questions asking more about what I eat on this whole carb backloading plan. I think some people are a little confused and think I can shove whatever I want in my face as long as it's in the evening. As much as I would enjoy that, it's really not the case. So in an effort to show more into what I eat here's a look at some of things I've been enjoying lately.
Many thanks to Jenn for hosting this awesome link up party.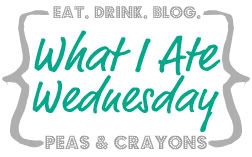 My first couple 'meals' of the day are pretty well always the same. I like what I eat, so why change it?
I always start the day off with a steamy cup of coffee with coconut oil, almond milk and cream.
Sometime between 11-12pm I have a gross looking juice.
I juice cabbage, celery, carrot and kale. I actually really like the taste of it despite it's not-so-attrative look and smell. Plus I add the veggie pul to Steve's chili – waste not.
I forgot to snap a pic, sorry.
I usually work out sometime between 1 and 2 and then around 3pm I eat eggs of some sort and veggies. 

Omelette = 1 whole egg, egg whites (don't measure), 1 tbsp nutritional yeast, cheese, ham
Mixed veggie casserole on the side (looks weird, tastes ah-mazing)
Egg Salad – 1 hard boiled egg, 1/3 cup hard boiled whites, 1 tbsp nutritional yeast, 1 tbsp olive oil mayo, mustard, and parsley
My pasta-less pasta salad on the side
Around 5-6pm I'll usually have something else to eat. I've been all about my microwave protein muffin. I've been making them a bit smaller and doing a big batch of them every few days. I'll post the updated recipe soon. I also cook up some turkey bacon for Steve and I to snack on and we also keep nuts and protein powder at the gym.
 Dinner! Now, here's where the variety comes in. Dinner depends on if I'm eating carbs that day or not. Here are some of my favourite low carb dinners lately.
Zucchini 'pasta' with garlic shrimp in a homemade alfredo sauce
Over easy eggs with nutritional yeast and greek salad
Almond flour crusted chicken fingers (seriously deicious)
Mashed cauliflower, caesar salad, pesto stuffed chicken
And on our carb nights we've been eating…..
Completely homemade pulled pork pizza
Steak, rice, corn, beans
Egg sandwiches and fruit
And sometimes we'll have something like apple/berry crumble for dessert
Carb backloading is really a game of trial and error. You need to find the right amount of carbs for you to consume for both function and physique. I'm still absolutely loving this style of eating and plan to continue along with it. I try and get in a good amount of veggies and fiber and also drink a ton of water during the day.
If you have any questions about carb backloading shoot me off an email, I'll do my best to answer!
WIAW – Carb Backloading Style