It's WEDNESDAY!!!! Half way through another week and that much closer to the weekend. I cannot wait for some quality relaxation time this weekend. The only thing I really want to do is go to the movies, other than that I plan on being totally lazy.
This morning I was anything but lazy in the gym. Today is my 'light' day so no heavy weights for me. I've also been trying to fix whatever is wrong with my elbow by doing tons of mobility/rehab work to fix it. It started bugging me last week when I was doing overhead barbell presses and the pain just wouldn't subside. I've been using the lacrosse balls to really roll out my traps, back, and triceps and it seems to be getting better, fingers crossed!
Other than rehab work I also did a quick 10-1 workout of bodyweight rows, pushups, and sprinter sit ups (10 reps of each, then 9, 8, etc down to 1). Once I was done with that I wanted a challenge so I opted to do Steve's 21 workout with burpees and squats.

I was a sweaty mess when I finished – love it! If you're looking for a challenge, try this! If burpees aren't your thing (apparently I'm the only one who loves them) you can sub out another exercise in it's place.
It's been a hot minute since I linked up for Jenn's WIAW but I thought I'd hop on the party train today and join in!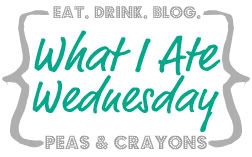 So my eats were actually kinda boring I guess, but they were delish none the less. I've been experimenting with different intermittent fasting styles along with my usual carb backloading style of eating. Nothing crazy drastic – if I make any permanent changes I'll be sure to update you guys, because I know you're super crazy curious as to what I shove in my face and when on a daily basis right?
I made up another gallery to feature my food from the other day because uploading pictures on wordpress has been a pain lately, and this gallery creator is wicked easy to use so browse on below!
[cincopa A4LAPY7oHL_1]
I have been meaning to share the ice cream recipe for a while now, so here it is. It's really easy to throw together. I usually just make it while I'm prepping dinner and by the time we're done eating it's ready to go! I hope you love it.
Vanilla Berry Protein Powder Ice Cream
Ingredients
1 - 1.5 scoops vanilla protein powder
1 cup frozen berries (raspberries are my fave!)
⅓ - ½ cup milk of choice (I've used almond/cream)
Sweetener to taste - I usually use a few packets of stevia or jam but it will depend on how sweet your protein powder is
1 TBSP coconut oil, melted
1 TBSP cocoa powder
1 TBSP unsweetened shredded coconut
Sweetener to taste - I use 2 packets stevia
Instructions
Place all ingredients in a blender or food processor and blend it up!
Place it in the freezer to set for 30-60 minutes or enjoy as soft serve right away if you just can't wait!
Combine melted coconut oil, cocoa and coconut and pour over ice cream. It'll harden right away and form a lovely chocolate shell
I'm off to train some clients, check in with you guys soon!
WIAW & Berry Vanilla Protein Powder Ice Cream Recipe