Hola! How was everyone's weekend? Did you watch the game? Steve and I enjoyed the game from the comfort of our home and it was the perfect night in, complete with homemade pizza and wings.
This week's workouts are off to a good start. My elbow is on the mend but I'm still using the safety squat bar which has definitely helped in the recovery process. That man of mine, he's definitely a smart one 😉 I've also been taking extra time rolling out my upper back/arms with the lacrosse ball too.
Moving on to the whole point of the post for today – it seems to me that every day there is some sort of new diet or challenge or something that has people cutting out major food groups for no apparent reason.
*** Before I go any further please know that I understand that certain people need to eliminate certain things from their diet for medical reasons, that`s not what I'm talking about here ***
With all the buzz and hype around gluten free, paleo, whole 30, dairy free, low fat, high/only fat (keto), etc etc etc, it's no wonder the general population is so damned confused about healthy eating and weight loss! Every time I open facebook, watch the news, look on a magazine rack there is some new diet touting the ultimate solution to weight loss. Lately it seems like most of the latest diet fads are all focused on cutting out major things from our diet, whole food groups even. Why is it that in modern society we want to eliminate whole foods but are perfectly fine ingesting processed, chemical laden, man made crap?
So I can eat this highly processed cookie that has a ton of high fructose items, next to no fiber and a bunch of other additives because it's gluten free? I don't see the logic.
If you don't react negatively to any food, why cut it out? Why eliminate grains if you tolerate them well? Why cut out dairy all together if you suffer no negative reactions from eating it?
People marvel at how quickly they drop weight when they initially start a new diet – well ya, if you were eating like crap before and are now eating more veggies, healthy fats and lean protein you can bet you'll see a difference. It doesn't necessarily mean that grains are the devil, you likely had poor eating habits before you started.
I like the idea behind paleo, eating things that come from the ground or things that eat things that come from the ground, because it gets people eating more real, whole foods. I don't think you need all the rules and limitations associated with paleo to reap the benefits though.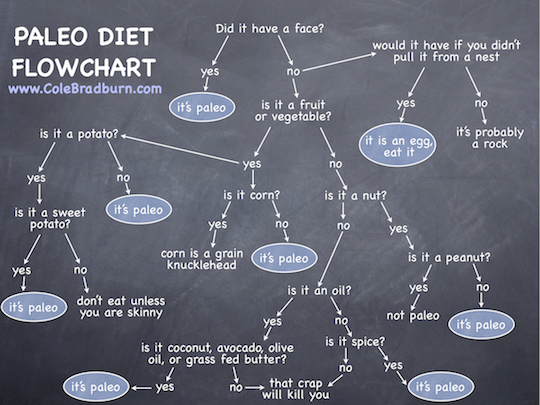 I just don't understand why people are making healthy eating so damned complicated. Eat mainly whole, real food. Food that doesn't come with an ingredient list. Hydrate properly. Get enough protein and healthy fat. Once in a while enjoy some pizza 😉
I really think most people suffer from portion control and eating too much processed crap. I don't think gluten or dairy or whatever the latest diet craze is telling us to cut out is the culprit. We always want to blame something for why we can't lose weight instead of taking the accountability we should. Most of us snack rather mindlessly and a few handfuls of nuts each day, a couple cookies, a few glasses of wine a night, it all adds up. I've seen people go paleo and lose weight then gain it back. Why? Because they go overboard on coconut oil, bacon and the likes. Cutting food groups from your diet does not guarantee weight loss.
Before you go off and cut a bunch of things from your diet ask yourself if you really need to. Is it grains that are making you overweight or is it because your diet is 70% carbs with little to no protein or healthy fats? Don't over complicate things that can be kept rather simple. Most people know what they should be eating and simply choose not to. (FYI, I'm fully aware I don't eat perfectly all the time and I don't pretend to. I do like to think I've reached a happy balance though)
There's a whole lot more I'd like to get into but we'll save that for another day. If you want to talk nutrition (not meal plans, just general advice, I don't have time for full blown meal plans right now) send me an email: chelsey@powerhousefitfoodie.com.
Lift Heavy. Live Big.
Why is Everyone Eliminating Foods From Their Diet?