Hey hey hey! So I am feeling soooooo much better today. I can finally breathe through my nose again and food is starting to become more and more appealing. For some reason whenever I'm sick, even if it's just a head cold where my stomach isn't bother me, I don't find most food appetizing which is totally unlike me.
So as I promised I will be posting the flax seed cracker recipe later on tonight but thought I'd share something else with you today too!
I originally started this blog for the lovely ladies that come in to my gym. A lot of them were asking for recipes for certain things I had talked about in the gym. So it sometimes slips my mind that some of my readers have no idea what my gym is all about so I thought I'd post a little bit about it because it is my pride and joy (I love it so much I made my background for the blog a picture of the place).
Steve and I opened Powerhouse Training Systems here in lovely London, ON last January. We started planning for it the year before and leased the building and purchased all the equipment between September and December of 2010 at the ripe old age of 23. I lot of people have commented on how young we are to have gone into business for ourselves but when you love something why wait!
Anyways our facility is pretty awesome. It is one of the only strength and conditioning facilities in all of Canada to be totally outfitted by EliteFTS. It is definitely not your average gym. There are no treadmills or ellipticals – instead we have prowlers, sleds, ropes and giant tires. There are no bosu balls or fancy locker rooms. What we spent our money on instead was everything you could possibly need to make an athlete – or anyone – faster, stronger, and better all around at what they do.
We have everyone in here from football players to stay at home moms and while they may seem different they all have one thing in common – the knowledge that it takes hard work and dedication to get the results you're after.
Here are some pictures of our facility: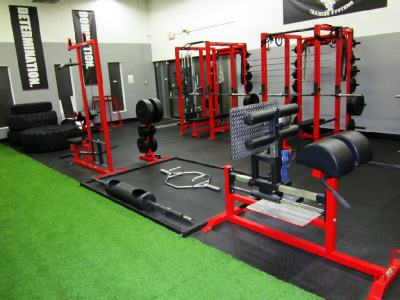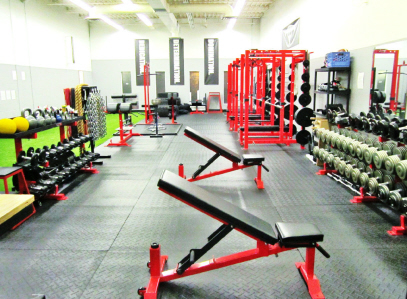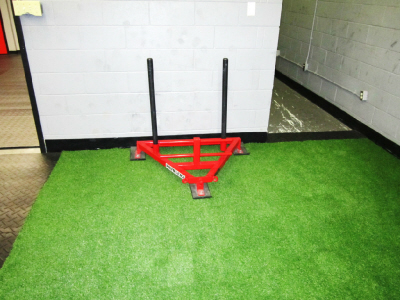 And here are some of our athlete's in action:

Steve works mainly with athletes and I coach the boot camps, do one on one training as well as co-ed small group training. I absolutely love getting to help and coach people every day. I love helping people reach their goals and it is so rewarding to get emails and thank you notes from people telling you you've helped change their life.
I have a link to our gym in the sidebar, but if you were interested the website is www.powerhousetraining.ca
Anyways I just wanted to share some pictures of where I spend 90% of my time. And remember, I'm always here to help! So if you have any questions drop me a line: chelsey@powerhousefitfoodie.com
My Gym – Powerhouse Training Systems