Ola party peeps! What's crackin? I have been a busy bee with training and getting things organized around the gym.
I've started a new strength program that Steve wrote for me and I am LOVING it! Here is what my week looks like:
Monday – Heavy Squat Progression & Full Body Accessory Work
Tuesday – High Volume Front Squats & Farmer's Walk Medley. I'm on week 4 and my reps for squats are: 1 x 30, 1 x 20, 5 x 15, 1 x 30. I do 3 different variations of carries/walks for 4 rounds and then finish off with some med ball work.
Wednesday – Bench Press Progression & Full BodyAccessory Work
Thursday – Chinup and Push Up Progression & Full Body Accessory Work. Tomorrow I'll be doing 7 sets of 6 chinups and 7 sets of 15 push ups. I add one set every week.
Friday – Deadlift Progression & High Volume Front Squats. Same reps for the front squats. Deadlifts are done with a strict reset at the bottom of the movement.
(250lbs x 3 x 3)
Saturday – Farmers Walks and Conditioning
My workouts aren't very long, about 45 min – 60 minutes depending on the weight and volume. All of my lifts feel so good right now and I'm really happy with how my body is responding too – high volume is my friend.

So ya the last time we left off I was heading to Cincinnati for a strength conference. That was like….3 weeks ago haha. I've had a bunch of stuff I've been busy working on. I'm setting up a new system for our gym for bookings and payment so that's taking some time to set up but I've also been working on a personal business project that is easily eating up most of my free time. I've been working on it slowly for a few months and now is the final (and busiest/hardest) stretch. I'll be sure to fill you in when it's ready to go. I'm pretty excited about it.
Anyways let's get caught up using pictures, since I'm a visual person/the less typing the better 😉
Tyson got his first BarkBox and loved it. I love the concept behind it and it'll save me from getting suckered into buying him random things when I get his food.
I actually got dressed up for a change. It was our friends Trevor and Amy's wedding and it was beautiful.
I saved this little guy from getting stepped on/run over. Some of the guys from our gym found him in front of our door. He wasn't injured and after pulling out my phone and checking

this site

I found out he was simply a fledgling, learning to fly. I didn't want him to wander into the busy parking lot so I simply moved him to a nice safe area. A few birds came over to him as soon as I left, I'm assuming it was mom and dad since they were eyeballing me pretty good.
I got a Polar Loop for my birthday and this how many steps I average on a regular day. They say to shoot for about 10, 000 so I think I'm doing a pretty good job.
It is Wendnesday so let's hop on Jenn's WIAW party train and look at some food. These are eats from this past week – just dinner and some desserts because I eat the same lunch every day and breakfast is just coffee for me.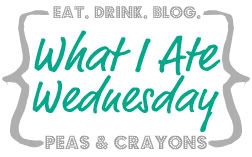 Ok well now I'm hungry. Check ya later!
WIAW – New Program & Catch Up